1 Vertrieb Trainings in Stuttgart
Here you find 1 Internships and apprenticeships to Vertrieb in Stuttgart. Add matching Vertrieb Internships and apprenticeships in Stuttgart to your saved list. Use your chance to apply for all those Internships and apprenticeships simultaneously. The most relevant ads are shown first.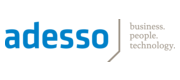 adesso SE
Stuttgart – 01-12-2021
... Projektumgebungen im Umfeld der Digitalisierung von Kerngeschäftsprozessen. DEINE ROLLE - DAS WARTET AUF DICH Du kannst dich für die Themen CRM und Vertrieb begeistern und möchtest15 – 20 Stunden pro Woche neben deinem Studium praktische Erfahrungen
Your search yields not the right results?
Make sure that there are no typing errors or apply here unsolicited